"Guten is a lightweight, fast, reliable free WordPress theme packed with a bunch of settings you will love"
Some Features You Will Enjoy 🙂
Just a preview of some of the features included in the Guten theme.
Choose between the header layouts offered with Guten, we've covered most header layouts to ensure you can easily get the look you want and create a professional online presence.
Plus, we will add more header layouts in the future!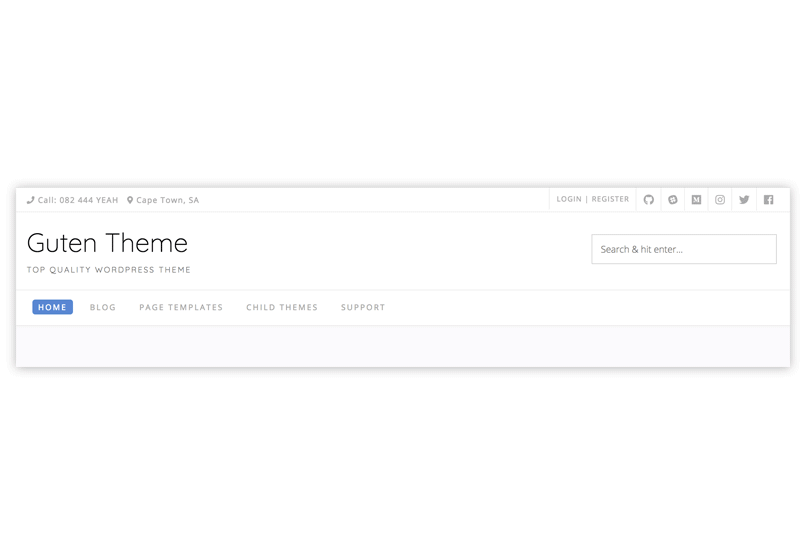 5 Blog Layouts to choose from
Guten offers 5 different blog layouts to choose between… From left layouts to right layouts to alternate layouts and also a Blocks, Masonry grid layout.
As well as extra customization settings to change the looks and make them your own!
Full Theme color & Font settings
Wanting to change the colors of any elements to better suit your brand or templates you've built? Guten comes with full site wide color settings so you can customize to your hearts content.
Guten offers full color & Font control!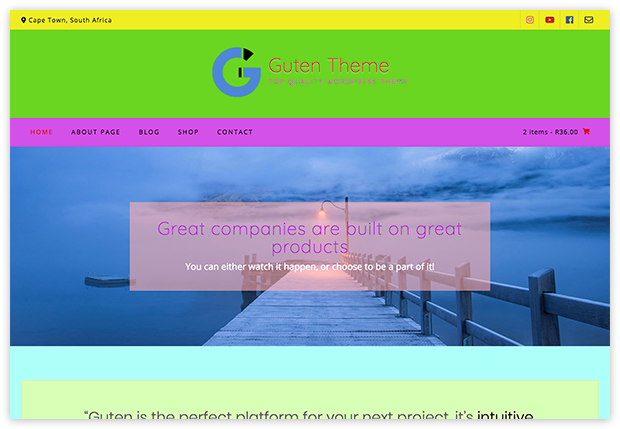 Instead of just taking our word for it… Try Guten Customizer settings out for yourself!
Why choose the Guten Theme?
The Guten theme comes with a lots of settings all built neatly into the WordPress Customizer so you can enjoy customizing your website in a live environment, to easily achieve the professional look you're wanting.
Lightweight & Fast loading: Guten is built to be lightweight and fast loading, it doesn't come with all the extra bloat code that might not be used. Scale Guten up with the best recommended plugins and build the perfect site you want.
Highly Customizable: Guten comes with 10 Header Layouts, 4 footer layouts, 5 blog layouts, 5 page templates to choose from and a bunch of customization settings from font settings to changing colors site wide and lots more.
A theme you can trust: We're a small dedicated team actively working on Guten so you can be 100% sure to get support on anything you need help with. There might be a time different wait, but we always reply to every request.
Modular System: Integrating with top plugins is something Guten does well, allowing you to add on only the functionality you need for your site. Guten loves WooCommerce, Elementor and SiteOrigin page builders and lots more.
Made for Developers & Designers
Build with a simple, beautiful design, Guten is easy to customize further and change to make it your own. With neatly commented code and custom hooks throughout the theme, developers will also love working with the Guten theme.
Hooks: We've placed hooks all around the theme making it easier for developers to add in their own code and functionality if you're not already able to do it within the theme. If you need extra hooks then let us know and we'll add them!
Simple Design: The theme comes standard with a simple design but it offers lots of different layout options and site-wide color settings and font options allowing you to full change the look and design of the Guten theme.
Search Engine Optimization: Guten is built using only the best coding standards and also follows the WordPress standards while also offering settings to change the different heading tags in the theme, giving you full SEO control.
Fully Responsive: Needing your website to neatly resize down and fit all devices? Guten comes ready for any screen size and will scale down to look good with whichever device your user is viewing it on. Guten is fully responsive!